We Deign, Fabricate in House Customized Priority panels for Testing & Filling of CNG Vehicles.

Priority Panels are designed around our own extremely reliable and robust Priority Valve. All components used in our panels are manufactured from high quality stainless steel SS316 (Swagelok) ensuring maximum corrosion resistance and a long service life.

Before dispatch all Priority Panels are tested on natural gas at our in-house CNG station. This ensures that on arrival your priority panel is ready to use and no additional on-site adjustments are required.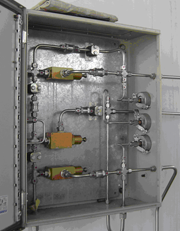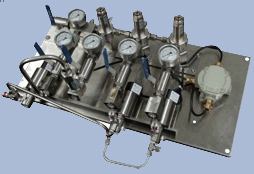 The clear benefits gained when you install a Priority Panel are:

» Ultra High Flow Rates – The panels are designed for compressor flow rates in excess of 3,000 m³/hr
» No Reverse Flow – The check valves on each line prevent reverse flow through the priority panel
» Large Flow Range – The KG80 meter is accurate over the range 1-80kg/min and has been approved to the latest OIML standard:
"Compressed Gaseous Fuel Measuring Systems for Vehicles". Easy Maintenance – The station can be kept running while the manual
isolation valves are shut for maintenance work. Pipework does not need to be removed for servicing the panels
» Simple Operation – The Priority Valves only open once the inlet pressure reaches 230 bar. Gas is then allowed to flow to the
common outlets on the bottom and right hand side of the valve. When all banks reach 230 bar, they fill up together until the
compressor shuts off
We offer a range of Priority Panels with options designed to suit your specifications:

» One, Two, and Three Bank Priority Panels
» Optional Compressor Top-Up
» Optional Solenoid Shut-off Valves
» Optional Pressure Relief Valves
» Daughter Station Priority Panel
» Other options are available on request


Solenoid Shut-off Option

With the addition of Solenoid Valves each of the forecourt lines can be shut-off. The solenoids come pre-wired into a flameproof box and when the power supply is removed the solenoids close instantly.

This additional safety feature provides increased control of the gas flow through your priority panel.